Capabilities
All sizes up to 4" diameter are of our typical manufacture.
Larger sizes may be available upon customer request.
These parts can be made to fit any design and size allowed for in MSS-SP95. Additional sizes can be manufactured to customer design specification.
Material
Parts can be manufactured out of material conforming to ASTM specifications A105, A234 WPB, A403, A420, B564, or any of their ASME equivalents.
Piping components can be made to customer material specifications and out of most brass and carbon, stainless, or alloy steels as required.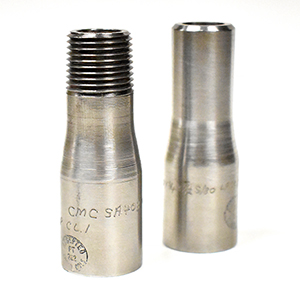 This Standard Practice covers dimensions, finish, tolerances, marking, and material for carbon steel and alloy steel Swaged (a) Nipples (male-end reducing fittings), NPS 1/8 through NPS 12 (DN 6 through DN 300) and Bull Plugs (hollow or solid male closures), NPS 1/8 through NPS 12 (DN 6 through DN 300). These fittings are made with ends that are threaded, beveled, square cut, grooved, or any combination of these. Both concentric and eccentric Swaged Nipples are included.
Partial Compliance Fittings Fittings with special dimensions and fittings made from non-standard materials may be designed and manufactured by agreement between the manufacturer and the purchaser, provided they are marked in accordance with the requirements for partial compliance fittings of Section 4.1(e).
[sp_testimonial id="308″]
Industrial Piping Components for the Nuclear Power and High-Pressure Piping Industries